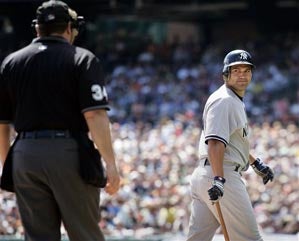 Everyone makes a whole fuss about the comeback player of the year award in baseball — which this year seems destined for Carlos Pena, though there's no shortage of candidates — but The Angry T suggests a far more enjoyable honor: The Go Away Award, given to the player who clearly showed this year that he's over the hill and will provide only diminishing returns for the rest of his career.
No shortage of candidates here, from Jose Contreras to Paul LoDuca to Ray Durham. But the unquestioned winner of this award has to be Johnny Damon, who, we might add, has two more years remaining on his $52 million contract he signed two years ago. Yeah, it really has been two years since Damon infuriated Red Sox fans (right before Christmas, even) by signing with the Yankees. The deal has turned out to be a disaster, and there's still a long way to go.
The good news: In the 2009 season, the Yankees should have eight mediocre DH types.
The Go Away Award [The Angry T]
Well, They're Handling This Well [Deadspin]