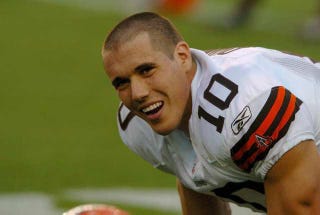 Because we're still a little taken aback by Michael Vick's press conference today — we imagine him using every prison phone call to dial Roger Goodell's office — we bring you lighter news to close the day. Brady Quinn has shaved his head.
It's rookie hazing.
"Just an involuntary haircut," Quinn said, referring to rookie hazing. "I don't know if it's ever been this short."
"Involuntary." We hope no pictures of the actual shaving surface, lest we see Brady giggling while Bret Michaels stands in the corner and weeps.
(Oh, and Hall of Fame voting will be discussed tomorrow.)