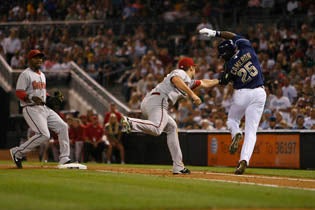 Well lookee here, the Padres have decided to make this interesting after all. Geoff Blum's two-run homer in the seventh and Jake Peavy's 11-strikeouts led San Diego to a 3-1 win over Arizona, cutting the Diamondbacks' lead in the West to two games. And since the teams play each other six more times within the next nine days, yeah, I'd say things are far from settled.
After the current four-game series at Petco, the teams move to Phoenix for three beginning next Monday. Milton Bradley also homered for San Diego, and to a lot of Padres fans he's been the difference lately. San Diego can come off as a pretty laid-back group of players emotionally; and Bradley is a jalapeno in that recipe. Peavy improved to 15-5 and became the Padres' all-time strikeouts leader. San Diego has a three-game lead in the wild-card race over Philadelphia, which beat the New York Mets 9-2 behind the return of Chase Utley (three hits, including a homer).
• Seller's Remorse? The Padres may be having second thoughts about dumping David Wells, who was signed by the Dodgers and pitched well for them in his debut. From Glaslamp Ball: "Would we have been better off insulting David Wells over and over again before each start? It seems to me that when he's offended, back to the wall, he steps up. I blame Bud Black for not calling him out for being fat and useless before gametime."
• Yankees Make History. You'd have to go to 1907 to find worse road loss for the Yankees, who were paddled 16-0 by the Tigers on Monday. Justin Verlander (14-5) earned the win, striking out six over seven innings. Detroit had 20 hits, roughing up Mike Mussina, who gave up six runs on nine hits in only three innings. Placido Polanco was 3-for-5 including a home run. Among players on that '07 Yankees (Highlanders, actually) squad, by the way, were Wid Conroy, Baldy Louden and a young center fielder named Branch Rickey.
• First Alberto Gonzales, Now This. Wasn't it just two years ago that the Astros were in the World Series? Anyone? Anyone? Manager Phil Garner and general manager Tim Purpura got them there, and now they're out; fired by owner Drayton McLane, who said the team "needed a fresh start" after a becoming one with the bottom of the NL Central (58-73, nine games behind the first-place Cubs). Astros bench coach Cecil Cooper was appointed interim manager, and team president Tal Smith will serve as interim general manager.
• Ferris Bueller, You're My Hero. Poor Mariners. they always seem to get John Lackey. The Angels beat Seattle 6-0, Lackey throwing the seven-hit shutout despite a case of strep throat.