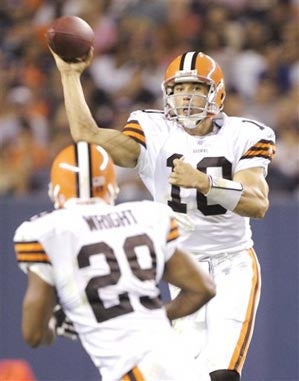 Believe it or not, folks, the NFL season is much closer than you can possibly imagine. So close, in fact, that, if we're going to fit in every NFL team preview by the start of the season, we have to go this early. So there you have it.
Last year, we asked some of our favorite writers to opine why Their Favorite Team Was Better Than Yours. Ultimately, we found this constrictive, and it also might have killed James Frey. So this time, we've just asked them to just run free, talk about their team, their experience as a fan, their hopes, their dreams, their desires for oral sex. All our teams are now assigned; if you sent us an email and we didn't get back to you, we're sorry, and we accept your scorn. But today: Cleveland Browns.
Your author is Monday Morning Punter, one of the mad minds behind Kissing Suzy Kolber. His words are after the jump.
————————————-
I don't know what it is about ridiculing Cleveland that gives me such a hardon. As a Bengals fan, I'm naturally inclined to find joy in bashing the Browns, either from writing verses that rhyme with "Winslow" or devising multiple ways of saying "You suck, Cleveland!" I mean, why show any respect to a franchise whose colors were inspired by feces, fresh vomit and semen? But, as an Ohio native, if that isn't the pot calling the kettle seal, I don't know what is. And so, I come today to praise the Cleveland Browns, not to bury them. In fact, they're a team with a rich history—one tied to the Bengals' very creation—and a semi-promising future.
This whole Bengals-Browns thing got started in 1962. Browns owner Art Modell, perhaps in a microcosmic precursor to buttfucking an entire city, canned Hall of Fame coach Paul Brown, the culmination of a bitter power struggle, perhaps fueled by forbidden gay lust that both men felt toward one another. The proud head coach packed up his shit, sold his stake in the team, and, like so many people who visit Cleveland, got the fuck out of town. He would later team up with Ohio's governor and lead a successful effort to bring an AFL franchise to Cincinnati. When the Bengals began play in 1968, Brown dressed his team in black and orange uniforms nearly identical to those of his former NFL club. After the merger in 1970, the Browns and Bengals were set in the same division, and a rivalry was born.
Paul Brown died in 1991. I don't know if he was actually gay or not. I hate his fucking kid though, Mike Brown. Cheapest fucking owner in the league, except for maybe Ralph Wilson. If I had three wishes, I would wish for (the first) a fur jacket, (the second) a flying car, and (the third) for Mike Brown to get run over by a garbage truck.
This is not the story of that garbage truck.
But anyway, some 25 years later, Modell packed up his shit and moved his organization to Baltimore, leaving a de-activated Browns franchise (complete with its eight league titles and 16 Hall-of-Famers) in his wake. Buying the rights to the franchise and resurrecting the team was the late bank magnate/rich bastard Al Lerner, who some people don't know actually helped Modell move the original organization out of town. Al Lerner was a Marine, just like KSK's own Matt Ufford. But the big difference is when Ufford does something nice, he only dies on the inside...
As Lerner rebuilt the organization, suggestions were sent from the League office: How about finally putting a logo on those damned helmets, they would ask. It really is a polarizing issue; most football fans either love the logo-less helmets or hate them. Or they're Ken Jennings, the Jeopardy! savant who is so full of shit that he thinks the field of orange actually is the logo. Lerner, in his wisdom, recognized the historical significance of being decal-free, and the team reprised its original look.
Ken Jennings? Yeah, lucky shot, dude. Herb Stempel is not impressed.
Hey, by the way, what the fuck was up with James Frey last year? I mean, this work isn't exactly the bee's knees but, goddamn, son. "The Super Bowl isn't going to happen. Maybe someday, but not now. I'm so sad. Girls won't talk to me. I burned my toast. Wah wah wah." What a pussy. I mean, if my johnson fell off rolled into a sewer (which it could; my foreskin is very aerodynamic), I still don't think I'd be that depressed. Dicks grow back, right? Right?
Hold on, what the fuck was I...oh yeah. So um, this second coming of the Browns hasn't really been super-awesome. Since coming out of that coma in 1999, they've already told two head coaches to pack up their shit, as the team has finished at or above .500 only one time in eight years. While some teams in this league seem content to just collect their revenue-sharing money and not stick any back into the product on the field, (I'm looking at you, Ralph Wilson), the Browns have made a plethora of investments that, simply, haven't realized gain. Tim Couch. Butch Davis. LeCharles Bentley. Kellen Winslow's bike. The list goes on.
To their credit, the front office still spent money this offseason. They snagged some nice personnel upgrades from their division rivals in free agency, including the versatile OL Eric Steinbach from the Bengals, as well as RB Jamal Lewis, who rushed for 1,132 yards and 9 TDs with the Ravens last season. Plus Ted Washington bought some fresh brass for the stripper pole in his basement. So there's that.
The Browns did have a great draft this past April. GM Phil Savage wisely spent his No. 3 overall pick on Wisconsin's Joe Thomas, a cornerstone left tackle that Browns fans were eager to welcome. The same could not be said for the posh Brady Quinn who, after being showered with praise for being so "pro ready," lacked the poise to wait in an empty green room before finally being selected 22nd overall, at quite a bargain. And if that wasn't enough, they also snagged CB Eric Wright in Round 2, giving the Browns three players with first-round grades, but also the Fat White Guy-Prissy White Guy-Black Guy With Legal Trouble trifecta. If none of them pan out on the field, maybe they could make Beverly Hills Cop 4.
A quick aside on Quinn, who may or may not have been packing someone else's shit before waiting to hear his name called this past April: Oh sure, he may possess all the physical attributes and throwing mechanics that have pro scouts masturbating in their motel rooms at night. But I look at that asshole and can't help but ask, This is your savior, Browns fans? The guy that spends more on hair care in a year than Parma's median income? He's the one that's going to dig you out of the doldrums of the AFC North? Really?
Fuck me, this preview is booor-ring! Did I really write this? I gotta be honest, I haven't read any of these all the way through this year. At least Frey's was short. That guy knows a thing or two about writing previews. I mean, this one's okay, you're getting some insight. I'm gonna beat the shit out of Chris Mottram the next time I see him. Then I'm gonna eat a sandwich. Hang on, stay with me, we're almost there...
Anyway, the front office can't win games. Negro Bowl excludee Romeo Crennell must shoulder the blame for the team's recent ineptitude; his club has neither momentum nor progress to show for his efforts over the past two seasons. His staff will be breaking in its third offensive coordinator in twelve months; former Chargers TE Coach/Next Great Offensive Mind Rod Chudzinski will literally try to produce chicken salad from chicken shit, inheriting a unit that finished 31st in total offense last season. Hehe. Unit.
It's probably worth noting that the Browns play in one of the NFL's better divisions; the AFC North will probably send two teams to the playoffs, as was the case two years ago. In contrast, the Colts play in a division that has had its other members finish above .500 exactly four times in the last five years. Ain't that some shit. It's not a bad deal for a team if they can get two games each year against Houston, Tennessee, and Ball State. This, however, is one luxury the Browns do not have.
Another luxury these Browns don't have is time. For all of its glorious past and promising future, this franchise is in dire need of a habitable present. The pieces may nearly be in place if this team can stay healthy. And after watching the Saints march out of nowhere to their conference championship game last year, I suspect this team might even be able to contend for a playoff spot in 2007.
Just kidding. They're fucking horrible. You suck, Cleveland!