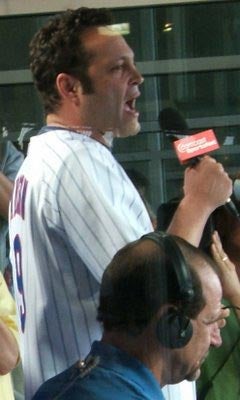 We recognize that we are saying this as a dastardly Cardinals fan who roots for the Cubs to lose even when they aren't two games ahead with just more than a month to play, but we still think we're at least slightly justified when we say this: It's probably time to knock it off with the seventh inning stretch singers.
We're actually not so bothered by the Cubs' new publicity stunt of having contests for fans to sing at the stretch; we'll certainly take some lifelong Cubs fan having his/her moment in the sun than some dope promoting their WB/UPN/CW show that's coming up tonight on WGN. It's just that the charm of it, the memory of Harry Caray that everyone's trying to keep alive ... it certainly seems like a relic of a time in which it was endearing. Now it's just drunk people screaming. Mind you, it was always like that, but it somehow meant something when it was Bill Murray, rather than, say, Tate Donovan.
So here's what we think they should do. They should, in the heat of this year's pennant race, kidnap Steve Bartman and have him sing the song, one last time. We suspect, after all this time, Bartman would be received with cheers rather than boos, and it would be a heartwarming form of closure for everybody.
And then they could retire it and watch the Cubs collapse in the final week of the season. Sounds great!
Harry Caray Rolling Over In His Grave [Out Of Right Field]