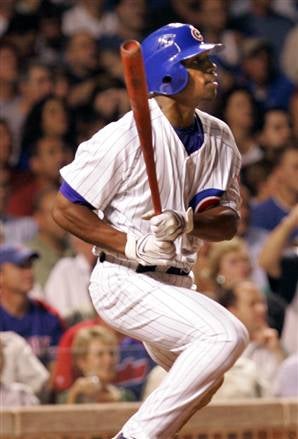 In a world where the Milwaukee Brewers spent 125 days in first place, there was danger in the air for every Cubs fan. But a new wind was about to blow ... . Jacque Jones was once the object of ridicule and scorn at Wrigley Field; Cubs fans going from actively booing him to simply sitting on their hands whenever he appeared. Children would not meet his gaze; even dogs gave him a wide berth. But a new day has dawned, nonbeleivers. If you doubted him, you don't know Jacques.
The second half of the season has been a different story. Jones' two-run double tied the game in the seventh, and he scored the go-ahead run on an error by reliever Scott Linebrink later that inning as Chicago beat the Brewers 5-3 on Tuesday. Significant, because it dropped the Brewers into third place in the Central, 2 1/2 games behind the first-place Cubs. And that means that your St. Louis Cardinals — 7-0 winners over the Astros on Tuesday in Cecil Cooper's managerial debut — hop into second place, two games behind Chicago. Jones is now hitting .357 in August. Milwaukee fell below .500 for the first time since April 9.
• Moe, Larry, Cheese! And now, what, the Phillies are in a division race? I have no time for this! Ryan Howard's two-run homer in the 10th gave the Phillies a 4-2 win over the Mets, drawing Philadelphia to within four games of first-place New York in the East. Aaron Rowand's swinging bunt (my favorite kind) had tied it in the eighth.
• And Now For A Race That Is Really Close. Mike Cameron knows not of your Cy Young Award. Cameron homered in San Diego's four-run sixth, the Padres beating Arizona 6-4 to pull within one game of the first-place Diamondbacks in the West. Brandon Webb (14-9) gave up six earned runs over 5 1/3 innings and had his six-game winning streak broken. And the Dodgers are only 3 1/2 out, so there's that.
• Oh I'll Mention It OK Fine! Andy Pettitte won his his sixth straight start and Johnny Damon hit a tiebreaking homer as New York beat Boston 5-3. It was the opener of a three-game series and the first meeting between the two teams since June 3. But the Yankees are seven games back in the East; are there any Rapture believers remaining?
• The Cruel Torment Continues. The Angels' Vladimir Guerrero is hitting .509 this season against the Mariners. His four hits and three RBI helped LA beat Seattle 10-6.
• Fan Of The Week. Actually Nathan Keating was arrested on Saturday for general douchebaggery while attending a Diamondbacks-Cubs game at Chase Field. The fact that he's painted red makes this mugshot even more terrific. And ladies ... he's single. Um, just how wasted do you have to be to paint your body for the Diamondbacks?