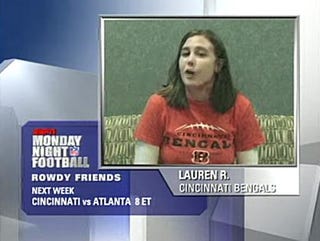 If you watched "Monday Night Football" earlier this week, you might have noticed a new segment called ESPN's Rowdy Friends, in which fans are encouraged to shoot videos of them acting like idiots — which is what networks and leagues think we are, as they remind us daily — so the "best" ones can be weaved into the "MNF" broadcast. The segment debuted last week, even though we hadn't seen any advertisements for it on the site. So how'd they pull it off? Well, the way any major corporation would: By making the lackeys do it!
The woman seen in the above video, screaming and carrying on about the Cincinnati Bengals, is Lauren Ritter. (You can watch her video here.) She's mentioned as having "sent in" the video, but if that's so, she probably just needed the interoffice mail: She's an ESPN employee. A production assistant, to be exact. This "random fan" is, of course, anything but.
We have sympathy for Ms. Ritter — who confirmed to us via email that it was her, and also pointed out that she's from Cincinnati and really does love the Bengals — who seems like an awfully nice lady and just wants to, you know, do a good job. (And we all know how difficult that can be as a woman at ESPN.) But we look forward to the season opener, when a thinly disguised Merril Hoge wears a 49ers jersey and screams about Joe Montana while, off-camera, Steve Young seethes.
Go Bengals! [ESPN]