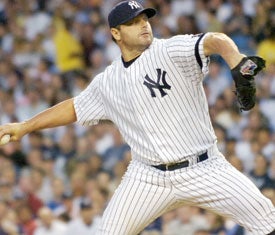 Roger Clemens — you may remember him — is back in the news, having been arrested in a Minnesota restroom for soliciting sex from an undercover ... whoa, sorry. Let's back up. I've made a painful error; let's start over. Sen. Larry Craig (R-Idaho) threw six innings of two-hit ball against the Red Sox on Wednesday, the Yankees prevailing 4-3 in a win important to their playoff chances.
Does that make the dumptruck-load of silver ingots that the Yankees paid for Clemens worth it? Probably not. But New York is now a percentage point or two behind Seattle in the AL wild card race, and six games behind the Sox in the East. Of course it's my opinion that they're still not going anywhere, but I've been wrong before, especially about these jeans. Here's a Clemens quote: "I was trying to be as stingy as possible. It's going to be a grind for me. I'm asking my body to be 25 right now." I've made that request myself, but let's not get into the exact circumstances. Alex Rodriguez hit his major league-leading 44th home run and Johnny Damon also homered as New York evened their season series with Boston at 7-all; hard to believe. Josh Beckett was tagged for 13 hits. Clemens (6-5) gave up an upper-deck homer to David Ortiz in the sixth. Oh, and Kyle Farnsworth may have broken a blogger's wife's big toe.
• Florida Hates The Yankees. Meanwhile, speaking of the Yankees, we have this. When will the blind hatred end. WHEN?
• The Extra G Is For Goodness. I know that this is occurring on the west coast, but try not to let your eyes glaze over. It's the best race in baseball, and the winner is most likely gonna be in the World Series. Greg Maddux led the Padres oer the Diamondbacks 3-1, San Diego creeping past Arizona by a percentage point for first in the NL West. Brian Giles scored the go-ahead run on Mike Cameron's double in the eighth.
• It Is Alive! Ben Sheets is off of the disabled list! Ben and outdueled Carlos Zambrano, the Brewers taking a 6-1 win over the Cubs to move within 1 1/2 games of first-place Chicago in the NL Central. The Cardinals lost to the Astros 7-0, slipping to third, two games out.
• Angels 8, Mariners 2. When Jared Weaver is winning the fourth out of his past five decisions, don't you get the feeling that the Angels are just destined to do well this season?