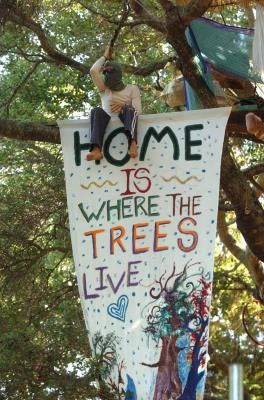 Ah, the classic liberal enclave of Berkeley. Aging hippies, still listening to Workingman's Dead on 33 rpm, railing against the capitalist system and eating all kinds of food that tastes terrible. Where would we be without them? They remind us of what college campuses used to be like, before everybody was just angling for a job with Bear Stearns. (Note: We have no idea what we're talking about.)
Anyway, three Berkeley folks have been living in a tree for six months now, protesting University administrators' plans to build a new athletic complex. A Judge has put up a restraining order prohibiting any building on the site until the matter is settled. That's all fine and good, except that a bunch of crazy SEC football fans are streaming in this weekend, and there's no way to pen them in without a fence.
t's not clear if the barrier being put up today violates a temporary restraining order issued by an Alameda County Superior Court judge barring any construction on the site pending a hearing on a permanent ban scheduled to be heard in Superior Court in Hayward, beginning Sept. 19. The court will decide three lawsuits surrounding destruction of the trees and construction of the sports complex.
We love the idea of a bunch of amped up Tennessee boosters, screaming the lyrics to "Rocky Top," looking up in the tree and seeing three bearded, starving hippies. They'll have that tree ripped down before they're into their second bottle of SoCo.
Don't Fence Me In [Signal To Noise]