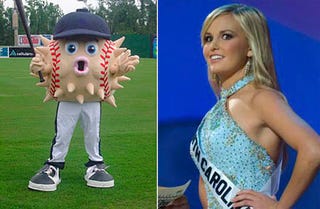 Just over at the South Carolina Tourisim official site, and do you know what? They don't have a spokesperson. This should be remedied, and of course there are only two candidates who could handle it. Miss Teen South Carolina; and Blowie, the mascot for the Coastal Plain League Columbia, S.C. Blowfish.
The resumes:
Lauren Caitlin Upton, Miss Teen South Carolina:
• Recently finished third in the Miss Teen USA Pageant, hosted by Mario Lopez.
• Has her own Myspace page.
• Believes that all U.S. Americans should have maps, such as.
• Will attend Appalachian State to study graphic design. South Africa.
Blowie:
• Kids love Blowie.
• The only minor league baseball mascot who is potentially lethal when not cooked properly.
• Blowie is available for bachelor parties and bar mitzvahs.
• Requires detailed directions (Blowie cannot read maps).
There you have it; a bit of whimsy for you and me on a Friday, but something that is deadly serious to South Carolinians, let me assure you. With luck, one of our two candidates will be in place in time for the state's Presidential primary. It's just too bad that Strom Thurmond is unavailable to make this a three-way race, due to being dead.
Minor Enterprise: Hey Kids, It's Blowie! [Deadspin]
I Can Haz Maps Of The Iraq, And Such As? [Deadspin]