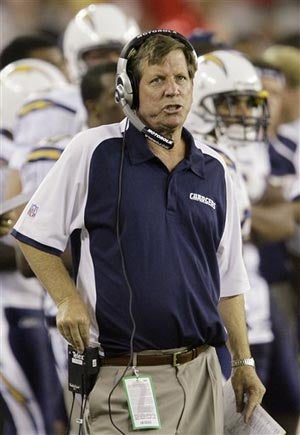 Believe it or not, folks, the NFL season is much closer than you can possibly imagine. So close, in fact, that, if we're going to fit in every NFL team preview by the start of the season, we have to go this early. So there you have it.
Last year, we asked some of our favorite writers to opine why Their Favorite Team Was Better Than Yours. Ultimately, we found this constrictive, and it also might have killed James Frey. So this time, we've just asked them to just run free, talk about their team, their experience as a fan, their hopes, their dreams, their desires for oral sex. All our teams are now assigned; if you sent us an email and we didn't get back to you, we're sorry, and we accept your scorn. But today: San Diego Chargers.
Your author is The Mighty MJD, retired Deadspin weekend editor and current author of The Debriefing. His words are after the jump.
————————————
I hate looking at Norv Turner's face. I know it's not a particularly pleasurable experience for anyone, but for a Chargers fan ... it causes actual physical pain. My chest hurts when I look at his goddamn face.
Norv's face should be the international symbol for "we are about to lose." I'm not looking for sympathy. In fact, in a way, Norv's presence makes things easier ... had Marty Schottenheimer been around for another year, there would have been the tension of wondering if this was the year Marty could finally pull his head out of his ass in the postseason.
The odds pointed against it, sure, but if you give any loser enough chances, they usually eventually break through. Don Shula, John Elway, Peyton Manning ... all former chokers, all eventual champions. Maybe Marty would've joined that group.
Norv, I'm pretty sure, will never belong to any group that could be described with the word "champion." Marty, he was at least a respected football guy. At least on some level, he knew what he was doing as a head coach. He belonged on the stage. Norv, however ... not only does he not belong on the stage, I'm not sure he belongs backstage, giving free handjobs to the guys who do belong.
And you know the worst thing about him? Norv's the kind of heartless son of a bitch who will make you forget his shortcomings for a long time, and then boom, he'll suddenly drop the hammer. I can't deny that I've been excited about the way the starting unit has looked in the preseason ... even though I know my optimism will be fruitless because he's Norv, it doesn't mean I can just turn it off.
And I fucking knew this would happen. I saw it coming. I knew that he'd have Philip Rivers looking fantastic, and that we'd move the ball and score some points, and things would be dandy until some crucial point in the regular season, where everything would go brokedick simply because Norv's on the sideline's being Norv. I swore that I wouldn't be seduced by this meaningless preseason masturbation ... but it happened. I am helpless to it.
Oh, the Norv hire works out great for everyone else ... LaDainian Tomlinson, Phil Rivers and Antonio Gates (consider drafting Vincent Jackson, too) should all have pretty decent fantasy seasons for you. The Chargers will put points on the board and will probably rack up a pretty good regular season record ... but somewhere along the line, Norv will see his opportunity to drag them down, and he will take it.
As for the actual nuts and bolts of the Chargers, and what kinds of changes you can expect ... there's not much, really. Despite an entire coaching staff turnover, the same systems remain in place on offense and on defense. The biggest change in personnel is at outside linebacker, where the Chargers substitute 'roided-out-of-his-mind Shawne Merriman to possibly-clean Shawne Merriman. An obvious and significant downgrade there. Hopefully, someone with a better masking agent has picked up his steroid slack.
Oh, and there are new uniforms. Forgive my bias, but these things are snazzy enough for Prince to wear on stage. The helmets are white, and all our little lightning bolts have a line of powder blue trim inside the dark blue trim. There's an all-new font for the jersey numbers and names, too ... I'm excited about it, and I don't care if that makes me gay.
The Chargers won't go 14-2 again ... the schedule is a little tougher this year, and it looks like the secondary is still going to be a bit of a problem. Something in the 10-6 or 11-5 range is more likely, followed by a Norv-engineered early playoff collapse.
(By the way, I miss you motherfuckers. I miss cursing, too.)