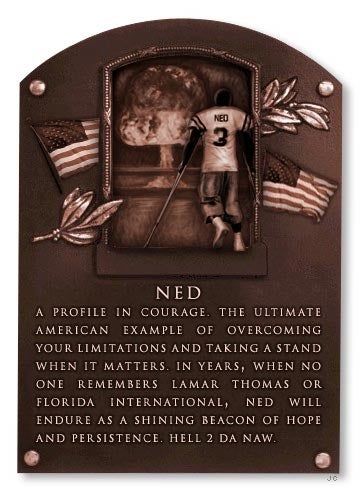 • Alas, only Ned.
• Mark Cuban, dancin'.
• ESPN hires its fans. Well, no, but it pretends its employees are fans. Clever, you!
• We'll never understand the President Of Red Sox Nation thing.
• Vick pleaded guilty. You might have heard about it.
• Mike Tyson's poop.
• Dickey Simpkins, one good dad.
• Time to let it go, Wrigley.
• If you thought the interview with Dave Zirin was just "too long," we suggest checking it out again. You've got plenty of time this weekend.
• A dogfighter at USC.
• ESPN is editing its own Wiki pages.
• Ohio State Fans Are Monsters!
• This bird will kill.
• Free Garchar!
We are off to enjoy the last vestiges of summer by ... well, by watching football all day Saturday, of course. Your weekend rock star is Unsilent Majority, who's a pleasant chap. It's Labor Day on Monday, so we're taking to the day off to give birth. We'll be back on Tuesday ... be safe out there.