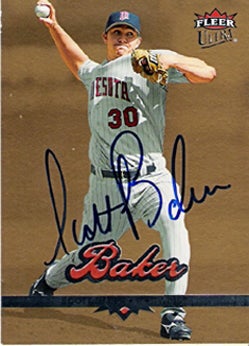 Yeah, the Royals are pretty fucking terrible, but try to not let that diminish your appreciation of Scott Baker's masterful performance. A leadoff walk in the ninth inning spoiled the perfect game before a one-out single to pinch-hitter Mike Sweeney (but I thought Jesus loved no-hitters! Now I don't know what to believe...). Baker finished off Kansas City and picked up the one-hit shutout in a 5-0 Twins victory. On an unrelated note, Francisco Liriano's arm fell off.
• BOOM BITCH! In what can only be described as a heroic effort to restore the value of my baseball card collection, Rick Ankiel lifted Leitch's Buzzsaw Cardinals past the Reds. A few facts are becoming readily apparent; Ankiel is the coolest motherfucker in baseball not named Dmitri and the Reds truly enjoy torturing their afflicted fans. I can't say I don't enjoy it, only evil people like Communists and Manchester fans would call themselves Reds.
• Gallardo Goes...Yardo (Scott Van Pelt I am not) Yovani Gallardo is not the next Ryan Braun, but he is going to be one hell of a pitcher. The heralded rookie pitcher hit the second home run in his last three outings while shutting down the Pirates formidable rather shitty offense. Milwaukee's 3-2 victory coupled with the Cubs predictable loss means just one thing, they're both incredibly mediocre!