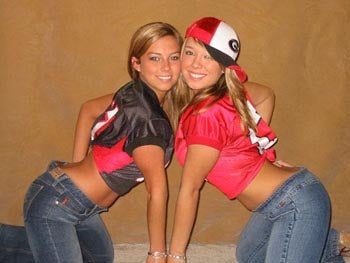 Well, I'm officially a man. I'm going to buy beer for a bunch of minors so we can all get shitty drunk outside Byrd Stadium. Fear the Turtle! - Grant (ed. note: Gawker Media cannot endorse such behavior. Nobody should ever go to Byrd Stadium under any circumstances.)
I've got a fever, and the only prescription, is more Kyle Bell! -Liquid Wisdom
If Michigan loses to App State, I may actually have to burn everything maize and blue in my closet. ::hangs head in shame:: -Rocket
did appalachian state show up to michigan wearing ohio st jerseys? - i heart poop
It just occurred to me that Miss Teen South Carolina must be really happy that Appalachian State is crushing Michigan.
- Ooh, Shiny
Mark May astutely pointing out that Michigan is not playing like a national championship team against Appalachian State. Makes me so glad that's no longer followed by Trev Alberts telling us why Nebraska has to be the favorite to win the Natonal Championship.— Jed in the UP
Am I the only one that thinks those kids on the sales genie commercials should just SHUT THE FUCK UP b/c mommy/daddy isn't making enough money to get a puppy/bike for them. Go read a book bitches. -Kalamazoo_Kicker
Now I know that College Football is officially back because I have to strain through my drunkeness to decipher Lou Holtz's swollen tongue syndrome. -The Man With No Name
Is Mike Tirico referring to part of Va Tech's offensive line as "Frank Beamer's interior threesome" a double entendre, or a triple entendre? -Brian from Boston
Miasma? Does the announcer [Bill Curry] know his audience? -The Man With No Name
Erin Andrews is interviewing one of the Virginia Tech students, and all he keeps staring at her rack....who ocan blame the kid. -Quack
People really seem to love this Big 10 Network!
dude, can't even watch the PSU game.. stupid big ten network sucks. -Enrico
As a Michigan fan, with two tickets to today's game, yet stuck on the west side of Michigan...fuck you, Jim Delany. This Big Ten Network is a humongous clusterfuck, and if Big Ten football is forced to have divisions and championship games to support your stupid pet project.....I will still hate you just as much now, since my team is losing by 11 to a 1-AA team and I can't watch it anywhere in this forsaken little town. Fuck. -AsInHowe
And what makes this even better is that Michigan's radio affliate in Grand Rapids, MI interrupts the game for "Fox News Radio Updates. There is nothing that I'd like to hear more when my team is losing than Larry Craig's sexual escapades being the fault of the liberal media. -AsInHowe
More proof that the Big Ten Network is carried by almost no one? The sideline reporter just addressed me personally. -BubbaCJ
A big thanks to Insomniac's Lounge for the picture
Keep sending those IM's to UnsilentDeadspin, I'm trying to get to as many of these as possible.