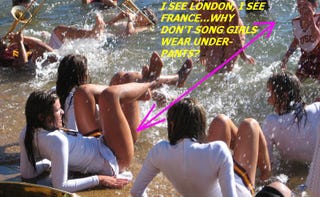 •We Are SC happened upon these lovely Song Girls wading in the refreshing water of Lake Tahoe. The artwork was done by yours truly. (via the photogenic Gridiron Goddess)
• John "Giant" Isner is attempting to prove his theory that Roger Federer "ain't shit!" He's currently down two sets to one and he's on the verge of getting blown out of the match. Well at least that first set was fun, now he needs to hurry up and get to a television before his Georgia Bulldogs take the field. It would have been over by now but Isner has challenged every single point.
• Fulham earned an unbelievably dramatic tie (such a thing does exist) this morning at the expense of the disappointing Spurs. The equalizer came just shy of the stoppage time when a header popped the ball into perfect position for Diomansy Kamara to nail home a seemingly impossible goal. Those are two more points that the Tottenham side has left on the pitch, things aren't going well for Bill Simmons' boys.
• The NFL suspended Cowboys quarterbacks coach Wade Wilson for his role in this federal investigation business. Wilson swears that the banned substance in question was for personal use and that none of it was distributed to his old team, the Chicago Bears. This story has legs.
• Baseball happened.
• Sorry we couldn't get to a fourth Hugh Johnson post today, things got pretty crazy there and time ran short. Thanks to those who took the time to contribute.
That's all for me today, for all of you social networkers consider this your official DUAN post. I'll see you in the morning.