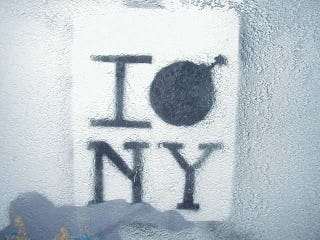 Apparently the Patriots are good (but we still hate them). Randy Moss hauls in nine for 183 yards and all the white Patriots fans can glory because Wes Welker got in the endzone as well. Did Belichick shake Mangini's hand? Do I care? Well, actually — no, I mean, no.
Four penalties on one play. That was the feat accomplished by the Browns on their flubbed opening punt that led to the first of many Pittsburgh scores, as the Steelers have beaten the Browns 14 out of the last 15 meetings, as take a 56-55 lead in the all-time matchup. Charlie Fryelock lasted about a quarter and a half before bowing to Derek Anderson to overthrow Joe Jurevicious about a dozen times. Ben throws four TDs and Mike Tomlin is undefeated, as he shall always be.
"Purple Jesus" Adrian Peterson, the patron saint of Big Daddy Drew's child, goes over 100 in his first start, and the Vikings rout the Falcons in the first game of the Joey Harrington stopgap spectacular in Atlanta. Kevin Williams returned a pick 54 yards, then immediately ate 63 pounds of bacon and assorted gazelle parts.
The Skins previal over the Phins in a 16-13 thriller in Raljon, MD, despite Jason Campbell, the Unsilent Majority-decreed future 2007 NFL MVP, throwing two picks and no touches. Antwaan Randle El pretty much matches his output of all of last year with 162 receiving yards.
The hey-let's-throw-to-Steve-Smith play worked for perfection for the Panthers today, as he caught seven for 118 yards and a touchdown in Carolina's 27-13 win over the Rams.
Vince Young doesn't need any stinking receivers, or he just needs to play a team with a similarly anemic offense as Jacksonville's each week. Young passed for a whooping 78 yards in Tennessee's 13-10 over Jacksonville. Former Cleveland Browns crowd pleaser Den! nis! North! cutt! led the Jags with 57 receiving yards.
Green Bay beat the Iggles 16-13. Jesus Christ, did anyone besides the Steelers and the Patriots score any touchdowns today? In other words, I have nothing interesting to say about this contest.
All the 4 p.m. games seem like winners, with Tampa having a 6-0 lead over Seattle and the Bears up 3-0 on the Chargers. Detroit and Oakland are scoreless, and by that I mean hopeless. Huzzzzzzzzah.