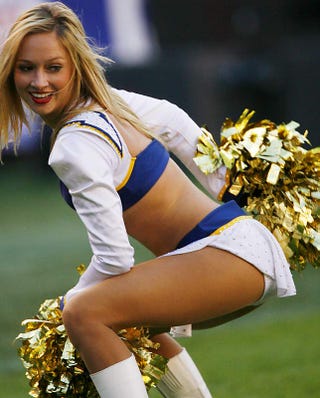 What in the blue hell is up with this Taco Bell commercial where cops are doling out high-fives while strings of cheese hanging out of their mouths? Are we supposed to find that appetizing?
Chicago @ San Diego, Fox
Memo to Big Daddy Drew: Lovie Smith may run out of patience with his QB long before you run out of Cumslinger jokes. Sunny San Diego is no stranger to boat-loads of sea-men, but today Sexy Rexy is raising the bar. Oily bohunk Shawne Merriman says he intends to shelve his jackass "Lights Out" dance. We can only hope.
Tampa Bay @ Seattle, Fox
Former Buc Keyshawn Johnson appeared to be dressed as a Good & Plenty box on ESPN's GameDay this morning. Who will be the lucky Seahawk receiver to light Ronde Barber up like a Christmas tree?
Detroit @ Oakland, Fox
If this is the only game you have, it's most likely because you are a horrible person who has done awful things in this and/or previous lives. Turn off the the television and spend three hours thinking about the error of your ways. Repent!