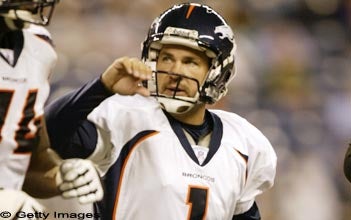 Comparisons of the NFL's opening weekend to March Madness have never rang truer. If you caught the end of the Broncos and Bills, you know exactly what we mean.
Cutler, with nary a fucking timeout to his name, marched his offense down the field on a drive that converted TWO fourth downs (that I saw) and sent the field goal unit sprinting onto the field with seconds to spare. Elam backpedalled into position and almost instantly charged forward to the ball...and fucking nailed it!
It's a good thing I put on pants an hour ago, because I would have blasted my load everywhere. Holy shit, what a finish.