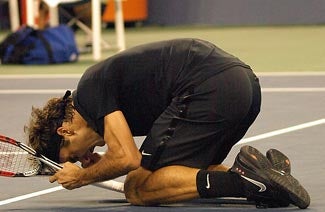 Dylan Stableford writes occasionally about tennis for Deadspin. Sometimes we're tempted to call his column "Droppin' A Deuce With Dylan Stableford." We are not sure why.
The U.S. Open drew to its expected, entirely prosaic, drama-free close last night in Flushing. Roger Federer proved yet again he bleeds only carbon, putting a Swiss spanking on his 20-year-old Serbian impersonator, No. 3 Novak Djokovic, 7-6, 7-6, 6-4, saving five first set points and two in the second ("My next book is going to be called, '7 Set Points,'" Djokovic said after the match), to win his fourth consecutive U.S. Open while earning the equivalent of Serbia's gross national product, $2.4 million, in the process.
It wasn't all bad for Djokovic, though; he made plenty of YouTube fans for his locker-room imitations of Andy Roddick, Rafael Nadal and Maria Sharapova, who sat among the crazy Serbs - and Robert Fucking DeNiro? — in his box during the final.
Federer, on court after the match, displayed the cool, take-no-prisoners heartlessness of past tennis champions. "He deserved better than that," Federer said.
On Saturday, No. 1 Justine Henin dismantled Svetlana Kuznetsova 6-1, 6-3 for her second title, a night after knocking out Venus Williams, who, as is apparently the case for any Williams sister, honored Althea Gibson's legacy and claimed partial injury (dizziness) after the 7-6, 6-4 loss. "I'm not sure what's wrong with me," Williams said. Lucky for Henin.
In the U.S. Open men's doubles final, No. 9 seeds Lukas Dlouhy and Pavel Vizner defeated Simon Aspelin and ... oh, who really gives a shit? They won, alright?
And Esther Vergeer of the Netherlands, who hasn't lost a singles match in four years, rolled (sorry) to yet another U.S. Open title in the wheelchair division.
The Open's only true surprise: no rain for two weeks - a dry fortnight that'll last until the next Grand Slam, the Australia Open, in January.
But fear not, Deadspin tennis fans. The Davis Cup is only two weeks away.
Bonus, if gay, video: Djokovic's impersonations in the U.S. Open men's locker room. It's like a tennis snuff film!: