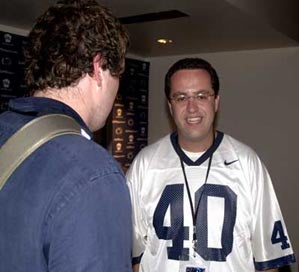 We remember, back in March of this year, when we constantly railed against Major League Baseball's desire to put its Extra Innings package only on DirectTV, the masses rose up, and the uproar was so deafening that MLB couldn't help but notice, even way up there in their castle in the skies. (It floats on a cloud, actually.) This, obviously, is not the case with the Big Ten Network.
As we finished up the second weekend of the college football season, we note that still almost no one on the planet has the Big Ten Network, and it doesn't look like there's much hope in sight for anyone who doesn't have DirectTV or The Dish Network. (We repeat: In the age of digital cable, there's no need to have to install a dish. These exclusive deals are the only reason these companies still exist.) Fortunately for anyone who didn't go to a Big Ten school, the Big Ten appears to be terrible this year. Michigan's troubles are well-documented, and even now-prohibitive favorite Wisconsin barely beat UNLV over the weekend. (But hey, how about that Leatherneck shutout!)
Anyway, the Big Ten Network, the one only we care about, is continuing to lobby, and now they're bringing in the big guns: They're bringing in Jared. Yes, the Subway spokesperson showed up at the Penn State game this weekend, as part of a Subway / Big Ten Network promotion. He wore a Penn State jersey the whole game, even though he went to Indiana. He was an even more popular celebrity in Happy Valley over the weekend than alum LaVar Arrington. We still think he could stand to lose a few.
Talkin' Fresh With Jared [Footblog]