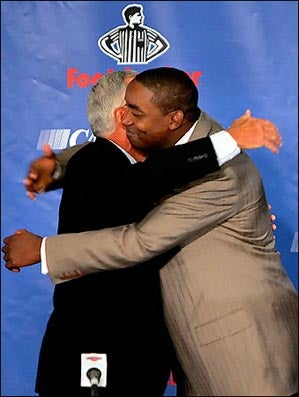 If you believe both sides involved in the Isiah Thomas sexual harassment case, the trial that's scheduled to begin today, justice will be served and a full trial will be played out. But anyone who knows anything about the law is practically begging both sides to settle.
Both sides would be wrong to allow the first witness to be called to the stand. Once that happens, everyone's dirty laundry gets aired not only for the jury but also in the court of public opinion. "It's in the best interests of the Garden to move on," [one expert] said. "Why would you want Isiah Thomas to spend weeks in a courtroom at a time when the basketball season is just starting to get under way?"

Not only that, but it's clear from discovery that Browne Sanders will try to paint a picture of a lewd, crude work environment for women at the Garden. That account nonetheless will be rebuffed by at least one female exec loyal to Thomas, Karen Buchholz, but not without the very real potential for Knicks players being called to testify. ... If the Knicks get nervous when Stephon Marbury goes on TV with Bruce Beck, they ain't seen nothin' until Marbury has debated the great legal minds of the day in court.
First off, we'd absolutely love to see Stephon testifying; that would be a beautiful thing. (You can go over the details of the case right here.) Some think the Knicks will inevitably throw money at the problem, since they always do, but if not, we could be in for quite a public spectacle. Heck, we suspect Zack Randolph could even weight in.
The Forgotten Scandal [Signal To Noise]