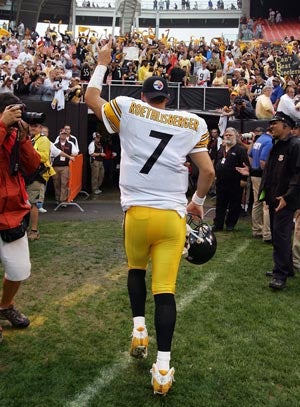 Thoughts on the first weekend of the NFL ... so glad to have it back ...
• Ben Roethlisberger threw 12 passes yesterday, and four of them were for touchdowns. Meanwhile, Charlie Frye ... you know, it's not like this guy is Tim Couch. Last year, some legitimately thought he might be the future quarterback. Now he's not even the quarterback of the second half of the opener. Maybe he should bounce his head off some pavement, then wait a year.
• We haven't talked to Daulerio yet this morning, but we can't imagine Eagles fans are going to smiling any time they force another team to punt any time this season. This is what happens when you let Andy Reid's sons return kicks. Free Jeremy Bloom!
• We have been crossing our fingers that we would see some Jared Lorenzen this year. Oh, and isn't Reuben Droughns supposedly on that team? The Giants were peeled off the field with rather large spatulas. We think it would be funny if Tiki Barber said, "Just kidding!" and came back to the team. Would make for some fun practices.
• In two weeks, we're going to head to Ralph Wilson Stadium for the Bills-Jets game. We cannot fathom how difficult it must be to live as a Bills fan. The world is just one big nutpunch for those guys.
• You guys here? The Patriots made same changes in the offseason, and they seem to have been effective.
• We suspect we speak for a lot of people when we express our joy at seeing Keith Olbermann back doing highlights for NBC last night. A little of Olbermann goes a long way, but it was pure pleasure to hear him do schtick from before it was cool, and then not cool, to do schtick. In fact, we enjoyed the whole NBC "Football Night In America" telecast, though, all told, we prefer the announcers' table more than the players' table.