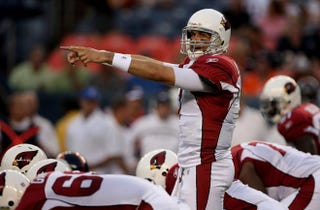 All right, we'll tell you right now: This is a terrible idea. Not only have we been up since 4:15 this morning, but we're also in the odd position of attempting to type non-stop, for three hours, about the season opener of a team for which we have an emotional connection. And we're going to do it while watching Mike Greenberg, Mike Golic and Mike Ditka. What could possibly go wrong? It's The Buzzsaw visiting the 49ers, and it'll be over around 1:30 a.m. ET. It is time to light this proverbial candle. After the jump. Email us with your thoughts.
And, that will wrap it up for us on an interception by Leinart, of course. We are so glad we stayed up for this. What a great time, had by all.
Just to dig the spurs into our throat, a friend who's a Patriots fan just emailed us: "You are ... a glutton for punishment. This is how the Pats used to lose games before we were graced with Belichick and Brady.Your time will come. . . just not while you're alive."
Perfect way to finish it off: By being mocked by a Patriots fans. Good night, folks. We'll see you in ... christ, six hours? Jesus.
FOURTH QUARTER
:16: Matt Leinart lives for spots like this. Totally.
:22: Arnaz Battle takes a reverse into the endzone. Told you. grumblegrumblegrumblegrumble San Francisco 20, Arizona 17.
:26:. Jesus Christ. The 49ers have it on the two yard line. With no timeouts. Eric Green somehow missed picking up a fumble that would have won it. We'll remember that when we lose this, you sumbitch.
:32: It'll be third-and-15 for Smith and the Niners, on the Buzzsaw 25, with 30 seconds left. No way the Buzzsaw wins this.
:53: After a sideline pass stays inbounds, there's a false start penalty on the Niners. And they run 10 seconds off the clock, to :43. Yipes!
1:23: Smith scrambles — as opposed to Leinart, who shambles — for about 25 yards, and suddenly, this shit is serious.
1:37: Alex Smith just threw a perfect pass to Darrell Jackson in the end zone ... and if falls JUST through his arms. Whew.
1:45: We're too stressed to type right now, so we're just gonna quote a reader: "I'm confused. If there are no offensive standouts in MNF II, who gets their picture on the side of the "My Little Pony" trailer hitched to Greenberg's Honda Element?" Good question!
1:52: Greenberg brings up Bill Walsh. If Bill Walsh were alive to see this offensive display, he'd roll over in his grave.
2:00: And here comes San Francisco. They're at the 50 as we go to the two minute warning. How can a game this dull make us this tense? Football hurts sometimes.
2:15: The 49ers, not surprisingly, have learned how to drive. If they come back and win this, we're never watching the Buzzsaw on MNF again. Not that they'll be invited back.
2:58: Ha. Of course. Hand off to James, he's short. Here comes the punt. We understand playing conservative ... but come on, you're on the road. Lucky to be here. The 49ers will have one time out left. We dunno: We might have tried for the first down there. We'll see. Punt goes to the 15 yard line. Have faith in Alex Smith, Niners fans?
3:13: Third down play for the Buzzsaw, third and 10. Looks like Leinart's gonna have to pass. They call a time out to relax themselves. Geronimo!
4:20 (Dude): Larry Fitzgerald catches a slant pass that's almost intercepted by Walt Harris. He sneaks past the first down marker. One more first down will make it extremely difficult, and two will finish it off. We shall see. By the way, they're having a ton of trouble with the play clock. The refs are as on their games as the players.
5:20: Edgerrin James gets nothing on first down. Clock ... go clock! We have zero faith the Buzzsaw will win this game.
5:45: 49ers. Three and out. That's three in a row? Four? We feel extremely stupid for having picked that team to win this division.
6:25: Someone just congratulated us on the Buzzsaw taking the lead. We'd say they more "fell backwards and landed on the lead," but, you know, we'll take it.
6:40: We're happy the Buzzsaw has the lead, obviously, but we have to confess: If you were watching two people play a game of Madden like this, you could never talk to them again. Actually, this is like watching two dogs play Madden. Little, floofy dogs.
6:40: On a play action, Leinart hits Boldin across the middle, and that, friends, was an actual scoring play. Rackers drills the extra point, and heavens to betsy, the Buzzsaw are ahead. Arizona 17, San Francisco 13.
7:05: Nothing more exciting than a Matt Leinart scramble! On a third-and-two, he runs for 25 yards. Slowly. And then the 49ers get a taunting penalty. When's a better time to taunt than when you've just let Matt Leinart run for 25 yards?
8:15: Leinart has figured out how to gain yards: Convince Bryant Young to grab his facemask. Fifteen yards, Buzzsaw now on the 35. If they keep giving the ball to James, he'll be dead by Week 6. Like every fan watching this game.
9:22: The Buzzsaw is not even bothering to pretend to pass at this point. If Kurt Warner were playing right now, he'd be asleep.
9:45: Leinart dives for a first down on third and 1. In college, our friends who didn't like football called that "the big pile of men play."
11:09: It just occurred to use that the "Monday Night Football" graphic features a robotic blimp. Never seen one of those before.
11:30: Make that 105 total yards. Another sack. 49ers four and out. Cut and paste.
12:21: As Greenberg just pointed out, San Francisco has 110 total yards. And they're winning. Why didn't this game get the A team again?
13:16: Almost every pass Leinart throws ends up with half the players on both teams ending up on the ground. That can't be good.
14:09: FLEA FLICKER! God we fucking love the flea flicker. It goes incompletely, of course. And Golic is right: Fitzgerald was wide open.
14:45: Edgerrin James catches an out pass and takes it across midfield for a first down. We love that Coach Wisenhunt covers his mouth when calling plays. Hey, Coach: You're not in Pittsburgh. Nobody cares what calls Arizona calls.
THIRD QUARTER
:00: Greenberg just called this a "battle." That's one way to put it. We're probably just being cranky. To the fourth! San Francisco 13, Arizona 10.
:14: Does each team have 14 defensive backs? This must have been what Pop Warner games with Cornell have looked like.
:45: Hey, Jane Wyman died It was not during this game.
1:48: 49ers go three and out. We're just cutting and pasting now.
2:54: We hope nobody stayed up and watched this game for fantasy purposes. Here's a tip, real fast, so you can go back to bed: None of your guys are doing anything.
3:09: Ditka says the last pass Leinart threw — in which the Niners' DB could have called a fair catch, though he still dropped it — was not his fault and was actually because of illegal contact downfield that wasn't called. This is why watching games on TV is more fun; we can disagree loudly and have no idea what we're talking about. Buzzsaw punt.
4:15: You know, if this day weren't bad enough — Buzzsaw losing and looking offensively impotent, the Cardinals losing their fourth in a row, and, you know, Britney — now we learn that the Illini basketball team sucks too. At least they'll be on the Big Ten Network and we won't have to watch them. First down, Buzzsaw, though.
5:25: We make fun of Mike and Mike from time to time, but we have to sympathize: This has to be the worst game anyone would possibly broadcast. We're not good at math, but there has to have been more penalties than completed passes in this game.
6:35: Another impressive Buzzsaw passrush almost forces Alex Smith into an interception. It's 12:30 at night, by the way. At 5 a.m., the United States is playing North Korea in the women's soccer World Cup. We hope they don't mind a late start as they wait for this game to finish.
8:02: The 49ers complete a pass! It's a first down into Buzzsaw territory. At this rate, they should make it to the 20 by around 3 a.m.
9:08: Leinart shotputs a pass into double coverage and somehow isn't intercepted. This is worse, so far, than any offensive performance the Buzzsaw put on last year. We're so happy this is the lone national television game.
10:30: Leinart hits Boldin on a four-yard slant pass. That might have been the third longest pass of the game. The camera catches Mike Singletary, a 49ers assistant. Every time someone every brings up Singletary possibly being a head coach someday, someone mentions "being a coach isn't just Xs and Os." Is really that bad at Xs and Os? Can he not read or something? Seems like a smart enough guy to us.
11:09: OK, let's see if the Buzzsaw can gain more yards than penalties. Time to aim high.
11:20: Gore drops a pass that might have led him into the endzone ... but it goes right through his hand. It's Nedney time, and he hammers it. The three-plus minutes of this second half have taken days. San Francisco 13, Arizona 10.
11:23: And Smith celebrates his new opportunity by having to call a timeout before the playclock runs out. Let's say we doubt the Seahawks are particularly terrified right now.
12:21: Let's track: Buzzsaw second half yards: -8. Penalties? 5. Gore is stuffed on two runs. It's all in the hands of Alex Smith!
12:45: We have a bad, bad feeling about this second half; the Niners are already pounding it downfield. And then ... a late hit on a pass Alex Smith threw 40 yards over everybody's head. Buzzsaw!
13:48: And a minus-eight yard drive to start the half. Must have been an inspiring speech.
14:08: The Buzzsaw coaching staff said they weren't going to overwork Edgerrin James this year. They weren't kidding. We've seen FAR too much J.J. Arrington tonight. It's third and 428. (They have that many yards on the West Coast. They're laid back that way.)
14:43: And ... another penalty. Say what you will about the new coaching staff, but they really do know how to make halftime adjustments.
14:55: OK! We're back! And the comments are working aw ell. Thank you tech staff! The Buzzsaw are at first and 20 from their own 10 to start. And Leinart almost throws an interception. Wee!
Prehalf: OK, now you're not seeing this post at all. We really shouldn't have made that joke about the tech people raving and working two hours a day. They are smart, and handsome, and deserve to be paid far more than they are paid.
SECOND QUARTER
OK, that's gonna wrap up the first half; an offensive FIRESTORM! To reward you for sticking this far, we give you:
We're gonna go apologize to the tech people now.
:42: Gotta love that sweep to J.J. Arrington on third down. Total back of the future. Buzzsaw punting.
:53: Third down for the Buzzsaw. We know Arizona isn't throwing it deep, but honestly, we'll take this over Denny Green's "Look, just run down there and look up!" offense.
1:45: We really wish Leinart would stop running.
1:56: Berman's doing the halftime highlights? No way he's up this late. This footage must have been filmed in 1983.
2:00: We just don't feel good anytime the Buzzsaw has the ball on third down in their own territory on the road. In fact, we feel miserable. Fortunately, the 49ers get nailed with illegal contact, and it's first down Buzzsaw. Nolan's tie is so much better than anyone's in the booth, by the way. Two minute warning.
3:46: Smith throws an incomplete pass on third-and-nine — and almost took out the goalpost in the process — and Joe Nedney, who has been in the NFL forever, "splits" "the" "uprights" and we are tied. Arizona 10, San Francisco 10.
5:15: Just heard back from a tech person: "Sorry, we only work two hours a day and are out raving right now." We ABSOLUTELY deserved that.
5:45: On a third down, Smith goes back and ... zips straight through for the first down. Leinart would have stopped to have a drink and pinch an ass first.
Ditka just called Adrian Wilson "infetuous." Not sure what that means.
6:20: Excellent point from a reader: "We have decided that Mike Nolan in the suit looks like CTU's Bill Buchanan. Which would explain that new Niners fullback named Bauer wearing 24." That's fantastic, even if it reeks of Simmons.
6:20: The 49ers get a questionable pass interference penalty and are driving again. Alex Smith looks slightly more comfortable on the run than Leinart, and he also throws with the correct hand.
7:36: Actual response to a question about whether or not a tech person could fix the comment problem: "Oh, everybody's long asleep." Nice.
8:30: Time for everybody to note that Mike Nolan is wearing a suit, and looks nice. We're traditionalist this way: He should be wearing a felt cap.
9:10: And look out, it's Edgerrin James ... touchdown! He knows what to do when he hits a hole! And Russ Grimm will slap the offensive line on the behind! It's a party in Glendale, wherever that is. Arizona 10, San Francisco 7.
9:45: Wait, the 49ers only have 37 total yards? The Buzzsaw has this on this drive. Let's see how Leinart handles this new found prosperity ... it's Leonard Pope! He catches passes AND rails against birth control!
11:36: It's a Buzzsaw fumble! The Buzzsaw seems to have something resembling a pass rush. We are confused by this new development.
11:45: Wait, we're just now introducing the 49ers' offense? We're in the second quarter. Wake up!
12:55: We have no idea why the site isn't posting comments right now. Our tech people work, like, two hours a day, so they're surely out raving right now. We'll have them check on it when they're up at 3 p.m. tomorrow. As for now, just hang in. Let's hope it kicks back in.
12:55: After another patented Leinart scramble — we're starting to just root for him to fall down — ends up in an incomplete, Illini grad Neil Rackers knocks in a field goal, and it's not a shutout! San Francisco 7, Arizona 3
14:00: Forgive us, but we Buzzsaw fan(s) get no joy out of hearing about Edgerrin James' career stats. We went through this shit with Emmitt Smith every week. And Marcel Shipp was better than him too.
14:55: The Buzzsaw has figured out a way to get the ball to Anquan Boldin: Let him just take the snap. He runs it for a first down.
FIRST QUARTER
:05: Greenberg's so cute. He's so used to his radio schtick that he just made a crack about Mike Golic's hair. Hey, Greenie: It's "Monday Night Football." Please don't make any fat jokes either. Anyway, Buzzsaw driving, end of first quarter. The goal of any Buzzsaw quarter is not to be down by three touchdowns. So far so good! San Francisco 7, Arizona 0.
:58: The 49ers run into Buzzsaw punter Mike Barr. A positive offensive play! At this point, we must lament the fact that the Buzzsaw cut Scott Player, who had been the longest tenured Cardinal. He had a single face mask. We'll never see that again. Sad.
2:05: You know, it's really comfortable watching Leinart outside the pocket. Really. It could be worse, though: Kurt Warner is still on the bench.
3:15: Leinart throws for a first down! It's almost like he has receivers. You know, like, Two Great Ones. He's our favorite Florida State receiver who wasn't molested by a relative.
4:45: Hey, nice tie, Greenberg. Ditka has that "I've got turds larger than you" look on his face whenever he looks at him.
5:15: Here's a story we've been wanting to tell for a while. An old ex-girlfriend of ours shares a summer house on the New Jersey Shore with Bonnie Bernstein. We asked our ex if Bonnie knew Deadspin. "Yeah, she really fucking hates you." It can't be good when your ex-girlfriends' housemates hate you more than your ex. That said, "I fucking hate that guy" is the most interesting thing Bonnie Bernstein has said in years. Buzzsaw sack!
6:54: We really can't get over how Greenberg sounds like he's underwater. Are these training wheels microphones?
7:22: Leinart — who even comes across as a douche while introducing his teammates — overthrows four wide receivers and Mr. Met on a third and 10. So far, he's thrown an interception, a ball 20 yards past his receivers and a ball with his right hand. Awesome.
10:15: Both Marcel Shipp and Edge bash through the Niners run defense. We do have a Matt Leinart jersey that we're slightly embarrassed of, but we really wish it were Marcel Shipp. He's been around forever, has backed up every big offseason acquisiition, and still he remains. Since Edge just fumbled, luckily recovering it, we admire him more. Leinart just threw the ball with his right hand, by the way. He still looked better than Harrington with that hand.
11:15: Though the pain, we're loving the 49ers throwbacks. Let's take this moment to pay tribute to the new angry bird of the Arizona Cardinals. It's the second year for the Angry Bird, but you know what? He's no less intimidating.
11:21: And, just like that, it's Frank Gore zipping up the middle for a touchdown. Wasn't that guy supposed to be hurt? The good news: The Buzzsaw has dominated the time of possession, with a gripping "three seconds." San Francisco 7, Arizona 0.
11:30: Matt Leinart's first pass of the year — before they even had the chance to freaking announce the lineups — is intercepted. Here we go.
12:30: You know, we want to focus on the fact that the Ravens just put in Kyle Boller for the key game-winning series. That actually happened. Hey, the 49ers are punting.
13:37: Three plays, two penalties. Welcome to Buzzsaw-49ers football.
14:45: The happiest man in the world to see Kyle Boller in the Ravens-Bengals game? Mike Greenberg. He's been lusting after the MNF job for years, and he didn't want to be stuck in ghetto of ESPN2. Welcome to the show, Greenie! Something is odd with his sound, though; he sounds like he's broadcasting while wearing a helmet.


Pregame
So who wouldn't have known this? The Buzzsaw's one national television game this year ... and it's possible the game before it will go into overtime. Root against overtime, kids, or you're about to suffer the indignity of watching a guy live blog an NFL Gamecast.