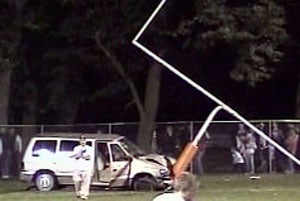 Alternate headline: Despite Will's Best Efforts, The 49ers Still Converted The Field Goal.
Actually it was 82-year-old Palmer Kroeplin who crashed through a fence during a high school football game in Stanley, Wis., on Friday, careened onto the field and took out a goal post; or in other words, how Kyle Orton arrives at Bears practice every single Monday. Of course one assumes that Mr. Kroeplin had some sort of medical issue and didn't know what he was doing here, but some witnesses weren't so sure.
"My first thought was that he was after somebody and was gonna hurt somebody, but I didn't know what was going on when he hit the pole," Stanley-Boyd High student Shawn Stuttgen said.
Wisconsin: Where education is a slightly higher priority than in South Carolina, but not by much.
Van Crashes Into Football Field During Game [Live Leak]