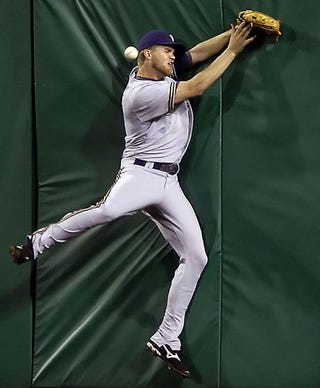 Call me old fashioned, but I kind of liked it when the teams involved in a tense pennant race were more than three games above .500. It's entirely possible that the Cubs and Brewers could go down to the final day before the NL Central is decided, with both teams sporting a losing record. Wouldn't that be loverly? It's like the 49ers and Cardinals last night, where you ask yourself, um, who wants this? It's addition by attrition. Well, while you guys are working this out, I'll just go get a sandwich.
I suppose I shouldn't complain. They could really get serious about testing for steroids, then every team would be screwed. We'd be left with Ryan Klesko and Rally Monkey. So Tony Armas' pitching and Nate McLouth's two-run homer led the Pirates over the Brewers 9-0, Milwaukee's fourth loss in five games in Pittsburgh this season. That opened the door for the Cubs, who beat St, Louis 12-3 to pull into a first-place tie with the Brewers. What manner of curse is afoot here? The Brewers have lost 41 of 60 games at PNC Park since it opened in 2001, even though the Pirates have yet to have a winning season during that time. And to add insult to injury, don't forget about this.
• My Name Is Asdrubal. Asdrubal Cabrera had a two-run homer in the seventh and a sacrifice fly in the ninth to lead the Indians over the White Sox 6-2. The Indians are six games up on the Tigers in teh AL Central, and now you look like a genius for picking the whole thing back in April. What? You picked the Twins? Never mind.
• A Grand Time. Kurt Suzuki and Dan Johnson each had a grahnd slam — the second time the Athletics have had two in a game in the past 106 years — as Oakland beat Seattle 9-3.
• Westworld. Jeff Salazar's homer led Arizona over San Francisco 5-3, as the Diamondbacks moved 3 1/2 games ahead of the idle Padres in the NL West.