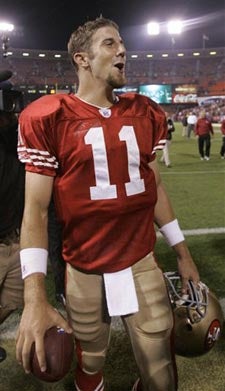 We're not sure why, exactly, we feel compelled to write about a game that we spent four hours writing about last night and just ended about eight hours ago ... and, oh yeah, was completely miserable to watch. But, alas, here we are.
Actually, other than note that Alex Smith looks pretty happy for a guy who had 66 yards passing before the final drive, and that if Seattle doesn't run away with the NFC West, Mike Holmgren should resign and raise Andy Reid's kids, we're not sure what much more there is to say. The Buzzsaw That Is The Arizona Cardinals blew a late lead and lost on national television. This happens every time they're on national television. At least usually it happens earlier in the night.
So let's focus on the game people actually cared about last night: A gripping 27-20 Bengals win over the Ravens. The game was perhaps most noteworthy for Ravens coach Brian Billick deciding, on the final drive of the game, to to bring in Kyle Boller over Steve McNair. Boller failed to tie the game — obviously — and the best part was watching McNair attempt to avoid making eye contact with the camera after he was benched. With Ray Lewis hurt now, we'd be a little concerned if we were a Ravens fan right now. Bring in Troy Smith!