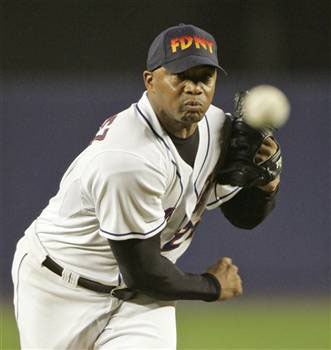 We interrupt our ongoing coverage of HGH, cattle steroids, Bud Selig's befuddled countenance, the gyroball, Barry Bonds' expanding head, Roger Clemens' expanding waistline, Craig Biggio's farewell tour, Joba Chamberlain's welcome tour, Boof Bonser, Rally Squirrel, The Big Tilde, Stubby Clapp, Curt Schilling's blog, Alyssa Milano, Carlos Zambrano, Francisco Liriano, Sixto Lezcano, every player who has touched 'em all, Lasorda's sex swing, A-Rod and Derek's forbidden man-love, The Green Monster, the Gashouse Gorillas, Stupid Angelos, El Guapo, Coolerpants, and Rangers 30, Orioles 3, to bring you this special moment: Orlando Hernandez and his Mets' teammates at Shea Stadium wore FDNY hats as they played the Braves on Tuesday. The Blue Jays also observed the anniversary as they played host to the Yankees, a tribute to heroes on 9/11/07, who ran into burning buildings on 9/11/01 and never came out.
Tuesday was a day to remember that on one fateful morning, we were all New Yorkers. Bill Murray, of course, said it best. "We're all very different people. We're not Watusi, we're not Spartans, we're Americans. With a capital "A", huh? And you know what that means? Do you? That means that our forefathers were kicked out of every decent country in the world. We are the wretched refuse. We're the underdog. We're mutts. And we've been kicking ass for 200 years ... we're 10-1!" So on 9/11/07, we're not Cubs or Rangers or Royals or Astros. We're Americans. With a capital A. Oh, the Mets lost, 13-5, by the way. And even that didn't spoil the moment.
• That Playoff Berth Is Looking Mighty Tasty. Jake Peavy earned his league-leading 17th win, and the Padres had four homers in a 9-4 win over the Dodgers. And I tend to like this quote: "No way I can come in here and let the Dodgers win this first game," Peavy said. "If I do that, then the team morale really gets down and we can easily roll over. You want to lead by example and I was just hoping to be good for the boys tonight and fortunately I was." The Padres lead the Phillies by 2 1/2 in the NL wild-card, and trail Arizona by 2 1/2 in the West.
• Joe Torre Is As Giddy As A Little Girl. Jason Giambi's grand slam helped the Yankees beat the Blue Jays 9-2, and put New York 20 games over .500 for the first time this season. The Yankees are four games ahead of Detroit in the AL wild-card after the Tigers split a doubleheader with Texas.
• Yovani Gallardo Rules The Night. Prince Fielder hit his 44th home run and Corey Hart also homered, the Brewers beating the Pirates 6-1 to regain sole possession of first in the Central. The Cubs lost to the Astros 6-5.
• Baseball Card Of The Week. I've been mesmerized by this Mike Piazza card since yesterday. What does it all mean? [Double-Nickel]
• Seven And Seven, On The Rocks. Mike Lowell had four hits and Kevin Youkilis had a bases-loaded triple as the Red Sox went from being seven runs down to seven runs up, beating the Devil Rays 16-10.