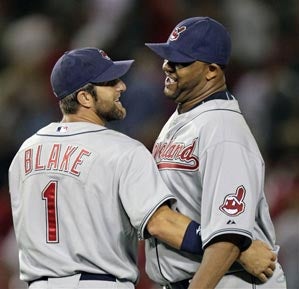 We'll confess, we're as guilty as anyone: No one seems to have noticed that the Cleveland Indians are in striking distance of the best record in baseball.
The Indians' magic number is 11, and they're only 2 1/2 games behind the Red Sox for homefield advantage throughout the playoffs (and the World Series, for that matter; thanks, LaRussa). And yet we — and a lot of you, we bet — aren't even the slightest bit familiar with some of their best players, including Rafael Perez and Asdrubal Cabrera. As The DiaTribe points out, when the Indians took two out of three from the Tigers last month, local newscasts led with Brady Quinn's haircut. So did we.
Cleveland seems on a collision course with the Yankees in the first round of the playoffs, so let's all try not to act surprised if, out of nowhere, this group of Hey, Who's That Guy?s pull a Tigers/Angels and knock A-Rod and company out. And for each playoff win, they'll take a piece of clothing off a cardboard cutout of the owner!
Under The Radar [The DiaTribe]