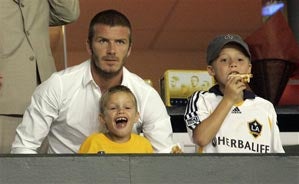 This is the main picture you see of David Beckham anymore; sitting in a luxury box with his oddly named children, watching his "teammates" of the LA Galaxy play (and lose) without him. The rumors about Beckham being "lent" to England appear to be without merit, but, clearly, Beckham's first year in the U.S. has been a total washout. Who's to blame?
Yellow Chair Sports attempts to answer that question, and there's no shortage of candidates. The majority of blame belongs to the MLS, but the finger has to point in Beckham's direction as well.
Beckham himself is to blame, largely for neglecting his own health and fitness. Beckham was trying to be all things to all people, which is admirable, but here it was just not plausible. He wanted to be the celebrity everyone knew he would be, the leader everyone thought he could be, the ambassador-for-the-sport he thought he could be, and the England leader he hoped his coach would want him to be. Beckham's last act of hubris and perhaps utter neglect for his fitness was playing 90 minutes on the Giants Stadium field turf on Saturday, flying to London on Sunday (arriving Monday), playing 90 minutes in an intense international friendly against Germany on Wednesday, flying back to Los Angeles (only an 8-hour time change) to play in the LA Derby that Thursday night. A few days later, Beckham was on the bench, ice around his knee and his face in his hands.
Maybe he'll be back next year, and maybe people will still care. But a most inauspicious start. Just like we told you! (Ahem.)
Smoldering Beck-age; A Legitimate Analysis [Yellow Chair Sports]