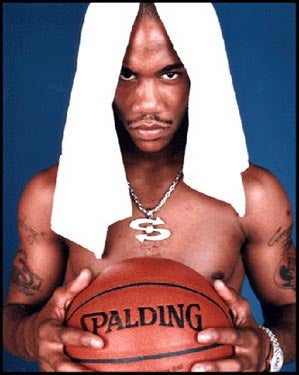 We are the furthest thing from a legal expert — we legitimately had to have "billable hours" explained to us earlier this year — but one would think, after yesterday's testimony in the Isiah Thomas sexual harassment case, Isiah and MSG would have to be in some serious trouble.
Unless, of course, what happened with Stephon Marbury is considered normal workplace behavior. Combining Marbury's and Anucha Browne Sanders' testimonies, here is the chain of events involving a Knicks intern.
• A friend and cousin of Marbury's, Hassan Gonsalves, said upon meeting the intern that, ""You look good in those pants. I bet that pussy looks good, too."
• At the intern's birthday party, held at an "unidentified strip club," the intoxicated intern received a ride back to St. John's from Gonsalves. When they arrived, Marbury pulled up in his car and said, "Are you getting in or not?" Later, the intern would tell Sanders, "Anucha, if it was anyone else I would have walked away. I felt like I had to."
• Marbury testified that they "got together right across the street" from the strip club.
• When Sanders found out about the situation, and the Marbury had referred to Browne as a "blck bitch," she told MSG president Steve Mills to "make it stop." In response, he "warned her that if she didn't stay quiet, Thomas would start rumors she was having an affair with another MSG executive."
Now, obviously, a lot of this is simply Browne's view; MSG will have their say. But at most companies, just sleeping with an intern, minus everything else, would be a fireable offense and grounds for a suit. And this encompasses so much more. Madison Square Garden sounds like the worst place a woman could possibly work. And then includes physically in a men's locker room.
At least Marbury is appropriately chastened about the whole incident: Witness the photos of him leaving the courthouse.
Charming guy, charming team, really.
Sleaze Play In Stephon Marbury's Back Seat [New York Daily News]