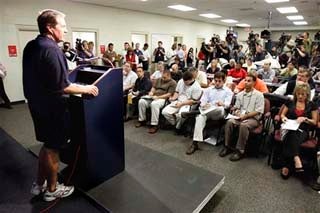 Yes, it's the man whom you never thought you'd see leading off Who's Sorry Now, because he never apologizes for anything ... Mr. Bill Belichick. The New England Patriots coach issued a one-paragraph statement 10 minutes before his regular press conference on Wednesday, concerning the Beligate videotape mess. Because there is nothing more sincere than reading a prepared statement in front of a group of reporters while wearing shorts, we're sure everyone is back on his side.
"Although it remains a league matter, I want to apologize to everyone who has been affected, most of all ownership, staff and players," the statement said. "Following the league's decision, I will have further comment."
Belichick said he had talked to NFL Commissioner Roger Goodell about "his interpretation of the rule" concerning taping opposing coaches on the sideline. This reminds me of the time that Lawrence Phillips and the police discussed "his interpretation of the rule" concerning dragging your girlfriend down a flight of stairs by the hair.
While we're on the subject, here's some other recent tearful regret:
• "Sorry, but Belichick has been pulling this #### for years." — Pittsburgh Steelers.
• "Sorry we couldn't lose 100 games this year." — Kansas City Royals.
• "Sorry I stole the fishing trophy, and for getting all competitive about fishing." — Wade Boggs.
• "Sorry about the global warming." — Cows
Belichick Apologizes For 'Videogate' [USA Today]