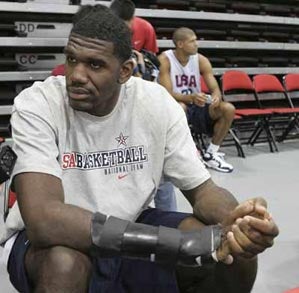 We find the fact that Greg Oden is going to miss the entire 2007-08 season very depressing news, and boy, doesn't that make us unique. The worst part about it, as anyone who has read his blog at Yardbarker, he's a likable, upfront guy for whom it's difficult not to root for.
Actually, anyone who read his blog a couple of days ago might have seen this coming.
On my vacation earlier this summer i got up off the couch and remember my knee having a sharp pain in it. That was about a month ago. I didn't tell anyone because i didn't want to seem like i was complaining or making excuses for anything. Plus i wasn't doing anything at the time i realized it hurt, so i figured it couldn't be anything big. After a couple of weeks, i had to finally tell someone so i went to St. Vincent's Sports Performance (where i worked out at before draft) and got my knee looked at. That was right before i moved to Portland for good. My knee was swollen since i was there. I finally just said that i need to tell my trainer because this is not normal. We went to the doctor's the next day to get a MRI and that night me and my mom ended up in the doctor's office being told that I have to get surgery. It's a light one, just a scoop, but still it's just another setback. I would like for me to be playing and not seem like i'm a high maintenance player, but things just keep popping up.
That was two days ago, but Adrian Wojnarowski of Yahoo still gets the scoop and wonders whether the Trail Blazers should have been more worried all along. We find this whole "is his body breaking down?" rhetoric a bit much; he is, after all, 19, and bodies don't break down at 19. Because he's 19. Greg Oden. 19. Bodies don't break down at the age of 19. Because that's how old he is.
Damaged Goods? [Yahoo Sports]
Greg Oden's Blog [Yardbarker]
The Worst Case Scenario For Greg Oden [True Hoop]