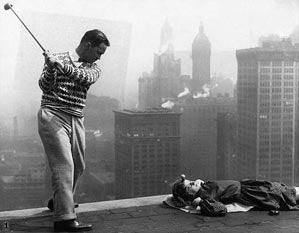 We don't play a lot of golf — it's honestly been about five years since we played — so we don't own our set of clubs. If we needed to buy some, though, we probably would not want this club in our set. Too much history.
Yeah, this guy's selling his club through eBay, and his reasons are frighteningly specific.
Im selling this club because I finally left my fatass girlfriend who hated the fact that I loved to play golf. I bought this for her when hybrids first came out which was approximately 5 years ago or when she was 115 pounds lighter. She stopped playing golf soon after I introduced her to the game and decided she would rather eat cookies and tacos as a sport. When she decided to start playing again she realized that her hands were to swollen to grip the club properly from all the meat around her knuckles.
OK then! Thanks for sharing!