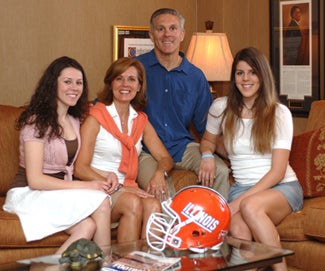 Amateur athletics and gambling go together like campfires and hallucinogenic mushrooms. Which is why I asked the Selleck to my Guttenberg, Unsilent Majority, to share some more of his valuable college football gambling wisdom with us today. Dumb disclaimer: the following "wisdom" could be wrong. Then again, it could be right. It's sort of a gamble. Maj, after the Excitebike chevrons...
Illinois -13 at Syracuse
The mighty Orange-people have surrendered 77 points in two games this year and they're 1-5 against the spread in their past six "efforts" dating back to last season. Illinois may not inspire a ton of confidence in bettors but just remember the name Arrelious Benn (Dunbar, nee Preparatory High School for Colored Youth, represent!). Besides, Ron Zook isn't as terrible as my Gator-faithful were led to believe and picking Illinois is sure to get me in good with the boss-man.
Washington +3.5 vs. Ohio State
And the suicide rate amongst Golden Domers reaches four figures! Aside from Penn State and Wisconsin (and perhaps Iowa) the entire Big Ten can suck a bag of dicks.
Alabama -3 vs. Arkansas
If Nick Saban doesn't immediately trounce everybody in the SEC's Eastern division that doesn't play on the bayou they might run him right out of Tuscaloosa (of course he'll probably have a head start). Try to set your Darren McFadden man-crush on hold for one day and watch those elephant loving fucksticks make you some money. Then we can all celebrate at McFadden's. (Warning: site will immediately begin playing gay music. Bruno was right!)