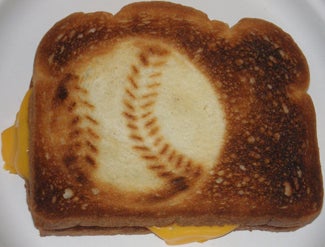 I feel horrible I didn't relay this information to you sooner. The bidding has ended, and I'm a pathetic excuse for a Deadspin Weekend Father. I'm sorry. But here she is anyways in all of her gooey glory: Barry Bonds 756th home run ball grilled cheese sandwich.
Yes, what you would've been bidding on — had I given you enough time to check the couch cushions and chill the ketchup — was a mint condition sourdough grilled cheese sandwich that Barry Bonds' 756 home run ball bounced off of. Or as the seller so eloquently put it: "quite possibly baseball's most sought after grilled cheese sandwich." Touché.
And oh, yeah, Bonds' record-breaking 756th home run ball was also auctioned off yesterday. Its final price went at $752,467, well above most of the estimates by memorabilia experts. To which all I can say is, "Rip. Off." They know you can't eat a ball, right?
Barry Bonds 756 Home Run Ball Grilled Cheese Sandwich [eBay]
Going, Going — Gone! [San Fransisco Chronicle]