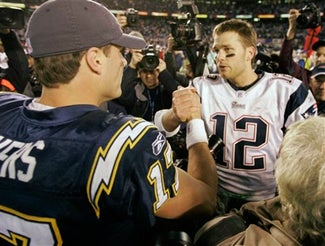 Well, another weekend, another twenty to thirty televised football games. Whew. What a weekend. I've never eaten so much beef jerky in my life! (I really need to take up smoking.) But hey, we're not done yet. No, that would be healthy.
It's the Chargers-Patriots tonight, in a rematch of January's AFC divisional playoff feud. Plenty of subplots in this sucka, but I'll save you and myself the trouble, and just let the NBC producers explain them to us over and over and over again.
Anyway, should be a good game. Have fun, and thanks for letting me wander around here with no pants on this weekend. My boys love the fresh air.