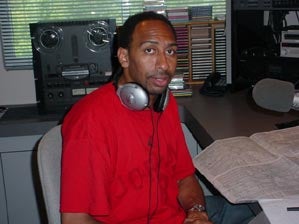 We can understand if you didn't quite remember this, but Stephen A. Smith actually writes occasionally, if you can count "tapping furiously into a Blackberry" as "typing." But he doesn't do it for the Philadelphia Inquirer anymore, ever since that nasty "reassignment" story the paper ran. So what's he doing now? Appearing on ESPN, of course.
Stephen A. did "The Sports Reporters" this weekend, but the word is that he's considering suing the paper over his departure. No matter what, today's the day has to let the Enquirer know what his plans are. (He's obviously not taking any damned general assignment reporter position.) Oh, and that lawsuit: Guess his lawyer's specialties:
"various phases of employment law, including litigating and defending administrative claims of harassment; retaliation and discrimination on the basis of age, race, sex, and disability; wrongful discharge and breach of contract issues"
This should be ... interesting.
Stephen A. And The Inky Lawyering Up [Philly Mag]