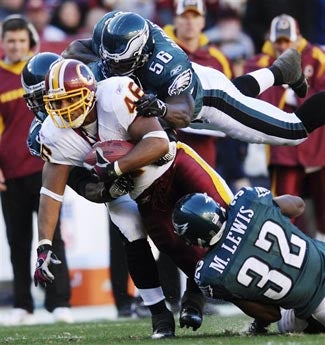 A night game in Philadelphia always seems, to us, like asking for trouble. Even if fans actually do go to work today, if they leave at 5 p.m., they're gonna have enough time to really mess some matters up. Or, you know, paint their bodies.
it's the Washington Redskins at the Philadelphia Eagles tonight, and a loss for the Eagles would put them at 0-2 and in serious trouble. (Until, of course, they make some dramatic desperation move that turns their entire season around, which always seems to happen.) We are pleased there's not another doubleheader; we still haven't caught up on our sleep from last Monday night. And that's not even accounting for Mike and Mike.
But yeah, last game of the week. We'll see how many DC references Kornheiser makes. Not enough, we suspect.