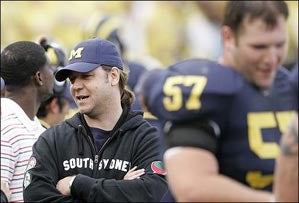 We're still a little bewildered by the fact that Russell Crowe was on the sidelines for Michigan's win over Notre Dame on Saturday. We don't understand why he cares so much about American collegiate football, first off, but mostly ... this guy is really friends with Lloyd Carr?
This is definitely weirder than Jon Bon Jovi and Bill Belichick being pals.
When his A-list Hollywood pal phoned last week to cheer him up after Michigan's 0-2 start, the Wolverines' grumpy ol' coach made another Hollywood casting call.

"I thought I'd just kind of take his mind off things so I gave him a call and started teasing him about it," Crowe explained Saturday, his ponytail tucked neatly under a new block 'M' cap. "And he said, 'Get up here.'"
We cannot fathom how these two became friends. We just can't.
Crowe's A Hit In Locker Room Role [Detroit News]