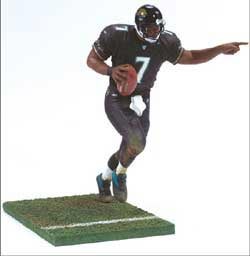 Byron Leftwich, here showcasing his vaunted scrambling ability, has signed a two-year deal with the Atlanta Falcons. It seems like a logical destination, though we hope it doesn't affect Joey Harrington's performance having a guy breathing down his neck. You don't want to mess with a beautiful thing like Joey Harrington.
Anyway, Falcons fans are tongue-in-cheek about their savior.
The Atlanta Falcons DID wandereth the desert for two games, and verily they DID sucketh it hard. Lo, they DID raise their cry to the sky and ask for help in their most sucktastical journey. And in answer to their calls, The McKay DID send a most wondrous Byron Leftwich in response. Placated, the Falcons DID rattle off 14 wins in a row on way to a most glorious Super Bowleth victory.
We'd think they would have to change their offense from what they were initially planning, because not only would the same offense not work for Byron Leftwich and Ron Mexico, we're not even sure they're playing the same sport.
Byron Leftwich Signs A Two Year Deal [The Falcoholic]