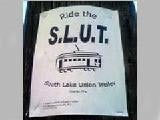 Forgive us, considering this post is pretty tenuously related to sports, but ... we were in Seattle last week for sports, so maybe that counts. Maybe.
Anyway, Seattle has a new trolley (or streetcar, or whatever), and it has a rather unfortunate acronym.
Officially it's the South Lake Union Streetcar, but people in the Cascade neighborhood who are fed up with construction noise and detours have come up with a name that's a little more provocative.
Instead of a streetcar, they're using the word trolley, and also the acronym "SLUT."
Again, no sports angle, but ... well, you could also take the SLUT to the Seahawks game. We love it when Mariner Moose rides the SLUT.