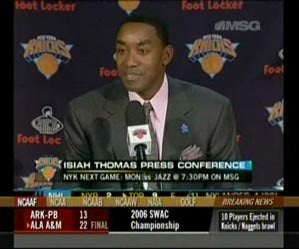 As the Isiah Thomas sexual harassment trial — also known as The Public Implosion Of What Used To Be The NBA's Signature Franchise, Bitch — continues down its road to glory and ruin, we check in today's installment: "Who Wants To Hug Isiah?"
During Madison Square Garden president Steve Mills' testimony, we learn that Isiah has difficulty, sometimes, taking a hint.
Mills testified he laid down the law after Anucha Browne Sanders complained that Thomas hugged her in a hallway in 2005 following a Knicks victory. "She looked at me like she had daggers in her eyes," Thomas said, according to Mills. "So don't hug her anymore," Mills said he replied.

"Okay, cool," Isiah replied, Mills said.
The sad thing about this: Isiah probably considered that extremely helpful advice. It's probably the first time anyone's ever mentioned to Isiah that maybe some folks might not want him to hug them. "Okay, cool."
MSG President Warned Isiah To Keep Hands Off Plaintiff [New York Daily News]