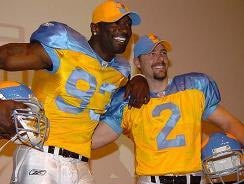 If you are watching the Eagles game this Sunday, there is nothing wrong with your television set. Donovan McNabb is still black, and those really are the Eagles uniforms.
The uniforms are to honor the 75th anniversary of the 1933 championship Eagles. None of those players are still alive, because they're football players; they died at 36, we think.
We wish the Lions would wear their throwback uniforms too, so the game would look like it really did in 1933. Except with the forward pass and, of course, black players.
Eagles Set To Wear Ugliest Uniforms Ever [The Fanhouse]
The Eagles Hate Your Retina [Blown Coverage]