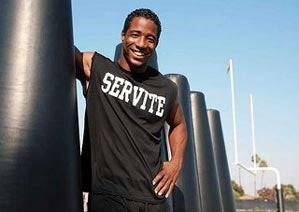 So here's a sad little story: The guy who serves as the model for motion capture on Madden, Kenny Bell, really wants to be a real life NFL player. He might look like a player, but he isn't, not really. But he wants to be.
Badly.
Kenny Bell graduated in 2002, has made a DVD of himself catching passes from Josh Booty and has a letter of recommendation from Jeff Garcia that states "He has shown me the talent and the skill to play on the professional level." The horrible thing is this poor guy still carries around both wherever he goes, just on the off chance that someone...anyone...will give him a shot with a professional football team. Just a tryout, a practice, something to show a professional scout what he can do.
That has to be frustrating, to play Madden and watch fake people impersonating real people impersonating you find more virtual joy than you do in your real life. He can always create his own character, and model him after Reggie Bush's character, in which case the universe will collapse upon itself and swallow the time-space continuum whole.
Kenny Bell Needs Your Help [Deuce Of Davenport]