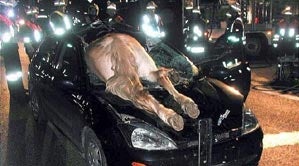 The competitors that bring us the truest joy, the ones who remind us that sports are human and frail and painful and therefore beautiful, are the ones who lose. Well, not always human and frail.
Meet the world's worst racehorse: Dona Chepa. Ole Mr. Chepa is 0-for-125 lifetime. There's no excuse for it, either.
Dona Chepa comes from a distinguished line of champion racers, and was sent to all the finest private schools. Her debut on Valentine's Day 2001 was supposed to be the beginning of something magical. Alas, it was not to be. Once, in May 2003, Dona Chepa came in 2nd (there was much rejoicing). And, despite her apparent lack of any horse racing "skills", Dona Chepa has managed to pocketed $12,971 (the horse has finished out of the money a whopping 90 times).
Frankly, we think there's still hope: We have faith that Dona Chepa will pull a Prince Hal and blossom into a great champion. And then she will fall once, and people will shoot her.
Been Through The Desert On A Horse With No Name [Gheorghe: The Blog]