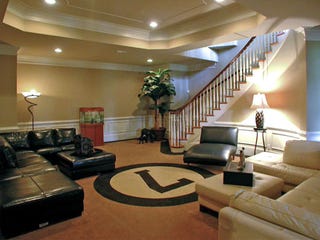 Yesterday, when I heard that Michael Vick's house in Atlanta was for sale, I first thought, "Yeah, yeah, big deal. I'm sick of this guy." But then a reader sent in the listing of the house, including a virtual tour and photo gallery.
And it's quite a remarkable house, that contains not only the pictured No. 7 floor mat, but also a fireplace in the bedroom, a Ms. Pac-Man arcade game, a rotating bed with pink chiffon and zebra stripes, a bathtub shaped like a clam, an all red billiard room with a giant stuffed camel, a big backyard with Grecian statues, S-shaped hedges, and three swimming pools ... sorry, I drifted out of thought for a moment and started talking about Navin Johnson's house.
But back to Vick's house. Specifically, the alert tipster pointed me to a photo of the terrace level:
I gotta admit, that's impressive. Venetian blinds on a door! Rich people have everything.
Michael Vick's House Listing [Realtor.com]