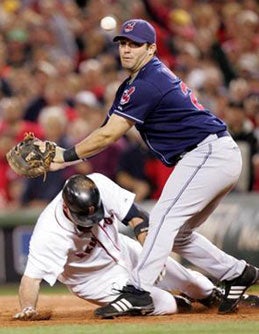 Despite the NFL's best efforts — and because Roger Goodell has yet to ban it — the blogodecagon is still abuzz over last night's Red Sox 12-2 win in Game 6 of the ALCS. Let's see what all the fuss is about.
J.D. Drew Would LIke To Apologize For Ruining Your Sunday Dinner Plans. You can't tell me you didn't call it. Because you did call it. I called it. Your grandmother called it. The guy who played "Dr. Zaius" in the Planet of the Apes movies called it. Those original, still-in-the-box Mego Aquaman action figures you've been preserving in the attic for the last 35 years, hell, they probably called it, too. When J.D. Drew came up to the plate in the first inning with the bases loaded and two outs, everybody in Red Sox Nation — black, white, green, members in good standing of the Foghat Appreciation Society... basically every sentient being on the eastern seaboard with the possible exception of Mitt Romney — got down on their knees and said, "Here's your chance to make up for what could be perceived as a lackluster year at the plate," give or take a word. [Surviving Grady]
Melting ... Melting ... If I didn't know better, I'd say the Indians placed all their eggs in the basket of clinching the series at home in Game 5. When it became apparent that wasn't going to happen, they lost their collective composure. [Erik Cassano's Weblog]
JD Drewski's 4-run Bomb. When Theo Epstein rolled the dice and signed JD Drew in the off-season, legions of Red Sox fans — including this guy — groaned. "WHY!?!??" we asked. That refrain was heard again and again throughout the summer, as JD Drew performed like a terrible robot version of his supposed former self. [Red Sox Monster]
Ace in the Hole. Tonight is do or die. Tonight, is the meaning of October baseball. Tonight is what we dream the playoffs will be. Tonight its win for the Pennant or dream of next year. Cleveland doesn't want to dream anymore. They've been dreaming for a sports championship since 1964, let alone a baseball championship, since 1948. This town suffers more then them all. The Sox had their win in 2004, but ITS TRIBE TIME NOW. [Let's Go Tribe]
Ryan Garko Is a Class Act. Cleveland first baseman Ryan Garko was in the batter's box at Fenway with his team down 12-2 in the ninth. He was in a god awful spot. ... A foul ball dropped in Garko's direction. If there was ever a time to get away with being less than gracious, this was it. Sure, maybe you toss it into the crowd, but to seek out a kid to hand the ball to, even though he's a fan of the team that's crushing you? That's class. [Foul Balls]
I Summon the Ghost of Francisco Cabrera! After the Game 4 victory, we all saw the graphic: 65 teams have taken 3-1 leads in best-of-seven series; 55 of them have gone on to win. Of course, a lot of them (most, in fact) went on to win 4-1 or 4-2. I'm more interested in knowing what happens when a team, down 3-1, forces a Game 7 (thus implying a huge momentum swing). Some quick research reveals 14 such instances—not a lot to go on, I realize. Still, 10 out of 14 times, the team with the momentum went on to win the series. Only 4 teams out of 14 have managed to "plug the dam", so to speak, and win Game 7 after blowing a 3-1 series lead. [Mistake By The Lake Sporting Times]
Photo courtesy Cleveland Plain Dealer, whether they know it or not.