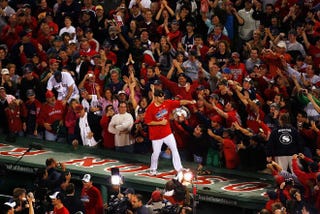 Say what you will about the sometimes unhealthy hold that the Boston Red Sox have on their fans ... but the picture above looks really, really fun.
We were fortunate in the League Championship Series this year; both the winning teams got to celebrate at home. Ryan Garko might or might not agree; clinching at home is more fun for everybody. The Red Sox never had the opportunity to do that in 2004; last night had been hard-earned and long-awaited.
We wrote last night that the Red Sox can just be a normal team now, that they don't have to have 100 years of history hanging over their head every night now. This is not a group of plucky underdogs; this is a team that, backs to the wall, blasted out an outstanding Indians team 30-5 in three games to return to the World Series. It might not make the best storyline, but who cares about storylines? It's the freaking World Series!
Natural History [Boston Globe]