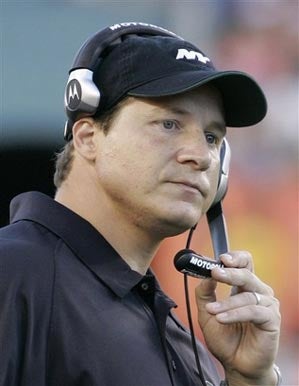 Tiny tidbits from Week 7 of the NFL Season ...
• Many people expected the Jets to fall back a bit this season, even if their team itself improved; last year had its fair share of luck, luck you couldn't expect to return. But, man, 1-6? The Jets look like a team that's worse off than they were during the Herman Edwards era — and we note that the Chiefs have a winning record right now. Coach Eric Mangini has watched everything fall apart since SpyGate; we wonder if he would do it over again, if he could. But hey: He still has that game in Foxboro to look forward to!
• You've surely heard enough about Tom Brady already, but seriously now: He has 27 touchdowns this season and two interceptions. That seems against some sort of physics law. The only question now: Can he win the big game?
• It's worth noting that the Lions are a win away from being halfway to Jon Kitna's 10-win guarantee, and they don't play a team with winning record until the week before Thanksgiving.
• The Giants are off to London this week, and we absolutely cannot believe they've won five in a row. Yeah, screw off, Tiki. We think it's be hilarious if Coughlin won Coach of the Year.
• In lieu of his son's most recent arrest, we repeat: Does anyone really think Andy Reid is going to finish coaching the Eagles this season? They just lost on a game-winning drive from Brian Griese.
• OK: Maybe we miss Matt Leinart. A little.