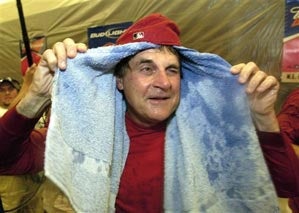 Looks like the police officers of Jupiter, Fla., might have some more reasons to pose for pictures next spring: Tony LaRussa is returning as manager of the Cardinals.
From the St. Louis Post-Dispatch's Bernie Miklasz:
DeWitt and La Russa have reached agreement ... UPDATED. NOT a 3-yr deal ... Still don't know the terms, could be a 1-yr with an option. Just dont know yet.These details will be determined later.

But it's 100 percent that he's managing the Cardinals in 2008. 1 pm news conference today at Busch Stadium.
This had been expected; despite rumors that he was interested in the Yankees job, the Cardinals have made some personnel moves so far (Joel Piniero, for example) that have LaRussa's thumbprints all over them, even though they still don't have a general manager. So nighttime sunglasses should remain well in demand throughout the greater St. Louis area for at least the next 12 months.
It' Official: LaRussa Is Back [St. Louis Post-Dispatch]